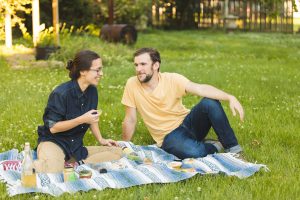 Wild Earth Fermentation Promotes Sustainable Growth;
Inside and out
Without our wonderful customers and smiling faces everywhere we go, we would not be as dedicated to providing these fermented foods. The people who come out week after week to support us and other local farms and businesses inspire us. Without you all, local would not be possible.
Grant Collier & Bri McCarthy
The first time I tasted kimchi, the spicy, tangy, intensely flavorful crunch of fermented cabbage and seasonings, I fell in love. The Korean staple dish stole my heart, but more importantly, it fed the trillions of bacteria living in my gut, known as the microbiome.
I didn't know then that ingesting fermented foods could support health in more ways than could be counted. There are trillions of bacteria living in the gut and they influence nearly that many bodily processes. Yum.
Now that Richmond-made kimchi is available, I am delighted. That's because life and business partners, Grant Collier and Bri McCarthy, took their love for fermented foods to a whole, higher level. They created Wild Earth Fermentation to help support local farmers and promote locally grown foods, all while sharing an extremely healthy and tasty selection of fermented foods with friends, family and the rest of us.
"Bri and I went on an extended bicycle ride around the country three years ago. We had both had internship and volunteer experience in small agriculture at James Madison University, but we had not had a full grasp of the constant challenge and struggle of the American small farmer as a whole group until our bicycle travels," Grant says. Short stays on a dozen farms gave them an up-close view of the challenges small farmers face, from agribusiness to the politics of obtaining a license to call their produce organic. "Sustainable farming requires a tremendous amount of energy, dedication and support. So much goes into working the land, managing it and building a committed customer base. We wanted to make a difference."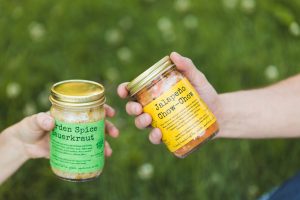 Wild Earth Fermentation brought together their interest in local, sustainable food systems and the health benefits of fermented foods. Their slow growth business model is an homage to the sowing and harvesting seasons, by necessity.
"Fundamentally, we are buying vegetables locally whenever possible, fermenting them and selling them directly to consumers at local farmers markets," Grant says. "We also sell in a handful of quality retail locations and are starting to sell to food trucks and restaurants."
As the business grew, the duo turned to THRIVE for business mentoring.
"Like most new businesses, I heard about the THRIVE network through other local entrepreneurs. I was referred to Rebecca Thomas and she has been a huge help getting our numbers together and focusing on what is most important to us," Grant says. Rebecca worked with them on the specifics of developing a direct to consumer or wholesale operation including determining the true costs, including labor, invested in the product. They also worked with a second mentor, Leslie Madden, who helped with accounting processes.
"The difference Rebecca and Leslie made is that we are now confident we are going to be increasingly sustainable financially this year and in the future. We get our company limitations and potentials better than before."
As with any business, there are pain points, but Grant says working with THRIVE helps work through those. "We work with local farmers throughout (and before) the growing season, trying to get what we need, when we need it and in a way that everyone benefits," he says. "We'll continue to evolve as long as we are fermenting, it is our passion! I expect to continue to tap THRIVE as we grow, it's already been a huge asset to our company in a short period of time, and I do not see that changing."
Wild Earth will continue to increase its presence in the Richmond area,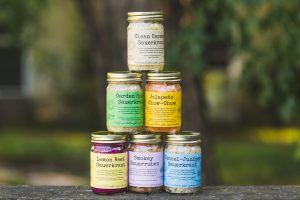 with plans to be featured on more menus and in new locations in 2018. This year, they are excited to introduce fermented pickles in this summer, a new product in high demand.