"Life, it ain't that funky, unless it's got that POP!"

Prince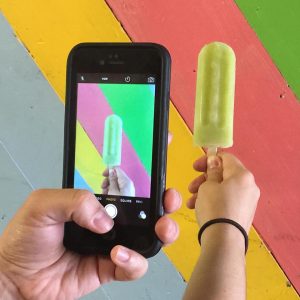 There must be a special place in heaven for people who offer a taste of life in unexpected and delightful flavors. Certainly there is a special place in RVA. King of Pops is one place to experience a divine alchemy of eclectic iciness.
You may have heard about Carse brothers' epic journey to Central Americal where they fell deeply in love with the Latin American ice pops called paletas. The King of Pops brothers' tale includes a corporate layoff, a lawyer choosing pops over prosecution and wild flavors sourced from local, natural ingredients. Over an insanely short period of time, the company grew from pop carts in Atlanta to locations in several cities along the eastern seaboard, including – thanks to Paul Cassimus – RVA. Paul, a college buddy of the Carse brothers and a former Spanish teacher – decided to walk away from a steady paycheck push the popular pop cart.
Now, KoP is a staple at local festivals, farmer's markets, as well as weddings, rehearsal dinners, birthday parties, company picnics, and office parties around town. And the Pop Patio, a walk-up outdoor seating spot located at 3001 W. Clay Street has become a warm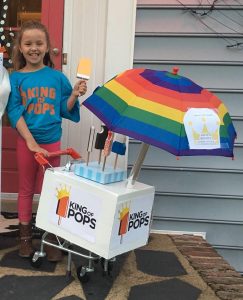 weather favorite.
The business grew so quickly, in part, because of help Paul got from Thrive. "We were at the point in our development when we needed to get serious about marketing, specifically social media," Paul explains. "I'd heard about Thrive by word of mouth, that this incredible resource was available to help entrepreneurs." He met with Thrive mentor Christina Dick to get help amplifying the King of Pops brand. "The Thrive website makes it easy to meet with Christina and to get access to other mentors as I need them. I got exactly what I needed, which was a more informal but specific approach to the coaching along particular issues that emerge."
Every business is different, and Thrive mentors are available for intensive coaching or, as Paul needed, on an as needed basis.  Christina – herself an entrepreneur after successful stints with the Martin Agency and other marketing companies – also teaches at VCU's Robertson School of Media and Culture. She has a penchant for partnerships that allows her to leverage her own social media agency, TFB, her work with Thrive and other community organizations and weave them with her teaching at VCU to create social synergy.
"We want to make the most strategic decisions to leverage Thrive's incredible resources," She says. Since all the mentoring available through Thrive is at no cost to the entrepreneur, "They are able to make the most of dollars needed elsewhere." Although some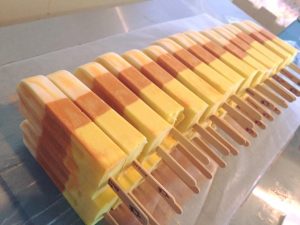 entrepreneurs need more traditional ongoing business coaching, Paul wanted help putting together a communications calendar and a job description for a new communications position. Later, he might need other kinds of assistance – from legal to accounting – and it'll be available.
If you think about it, it's kind of like Paul's pops. They come in unusual favor combinations and there is something to satisfy every taste, analogous to the range of expertise and working style of Thrive's mentors.
Meanwhile, King of Pops continues to thrive in RVA by expanding both catering and brick and mortar operations, increasing availability in smaller, locally owned grown grocery stores and at Whole Foods. A popular outdoor yoga series sponsored by KoP this past summer ended every class with free pops for participants and of course, the new social media plan has ignited the fan base.
Paradoxically, winter flavors like chocolate peppermint, sweet potato pie, eggnog, and white chocolate truffle alchemy make now the best time to make life pop!
For more information visit our website