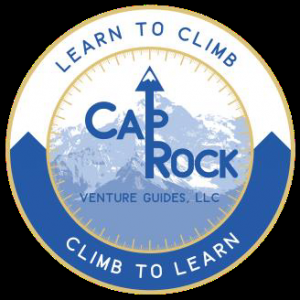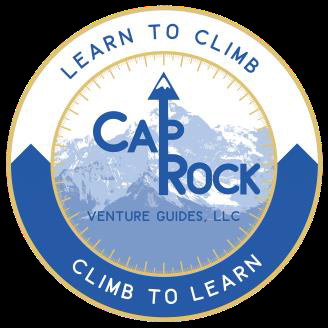 By K. Anoa Monsho
Rick DeJarnette leveraged THRIVE's FREE mentoring support to offer a unique rock climbing business to RVA. 
In his teens, Rick DeJarnette and his father frequently scaled the peaks of his native Colorado. They built a rock-solid relationship while absorbing all the lessons climbing had to teach; trust, interdependence, strategic thinking and physical endurance. Fast forward twenty years and Rick-now a seasoned management consultant-has introduced climbing to his clientele. His venture (in the real sense of the word!) CapRock, offers unique rock climbing experiences to RVA businesses looking to take team productivity and synergy higher.
CapRock is a startup, almost a year old, but it is resonating with area businesses that see it as a way to disrupt the status quo, hit the refresh button or deepen an already high functioning team dynamic.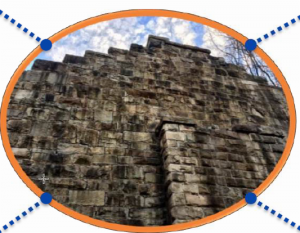 With all due respect, RVA's landscape is a far cry from the mountains of Colorado but Rick discovered that the Manchester wall provides all the challenge needed to strengthen team bonding and facilitate structured conversations around strategy, operations, change management and more. When Rick arrived in Richmond, he took a respectful stance as he began to learn the city. Although he believes utterly in the intrinsic value of climbing forged with his many years of experience as a management consultant, he was humble about how he came on the scene. That's how he learned about Thrive.
"Climbing is a great team building exercise, but more than that, it is  a catalyst to initiate change, trust, and clear and concise communication," Rick says. "The rock face, the wall, is a metaphor for knowing your summit, the incremental goals it takes to get there, and how to manage the risks that are a part of all great endeavors."
Like many Thrive clients, Rick has worked with more than one mentor on different aspects of his business.  Lindsay Grant plays a key role helping him calibrate his position in the RVA marketplace and leverage social media marketing. "I was immediately intrigued by CapRock as it combined Rick's extensive leadership experience with lessons from climbing," says Lindsay. "Rick was initially focused on the Fortune 500s in town but we decided instead to work with Richmond's many mid-size and small businesses to build the hype that would eventually get the attention of the larger companies." She says Rick's unique selling proposition is leadership lessons through climbing. He needs to target the industries and businesses that would be most open to learning through adventure.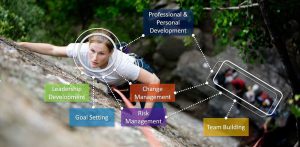 That strategy has CapRock's profile-and hype-on the rise. Terry Darcy, co-founder of Confluence Coffee Co., jumps right to the heart of what mattered for his team during a recent outing. Sure, it was great fun, lots of team building and inspirational cooperation. But real value came at the peak-communication. "During the post-climb reflection, we learned a number of metrics that really helped facilitate communication-including some difficult conversations-which have helped us to grow and made the team more comfortable discussing freely with management," he says. "As a result, we've changed communication styles to make sure everyone is informed as best as possible." Confluence plans to climb with CapRock again, Terry says. "This will help us identify areas that need work and highlight successes while having fun as a team."
"As I was seeking to make connections here, I found out that ChamberRVA was on the cutting edge of the startup scene, which is kind of unusual," he says. "Once I found out about Thrive I thought, 'what a fantastic idea!' Since I was starting something new, I wanted the right kind of support early in the process. That's exactly what I got from Thrive."
True to Lindsay's advice, CapRock is now engaging across RVA's business spectrum-local governments, small businesses and Fortune 500 companies like Capital One are clients. The truth is, team building experiences have become commonplace in business leadership circles, a one-off box to check on the way to business as usual. It's a soaring revelation; if you really want your business venture to thrive, you-and your team-have got to climb to new heights. Literally.
Contact rick@climbtolearn.com  or visit www.climbtolearn.com for more information.